Together We Rise: $35 million campaign for new Patient Care Tower at Royal Inland Hospital launches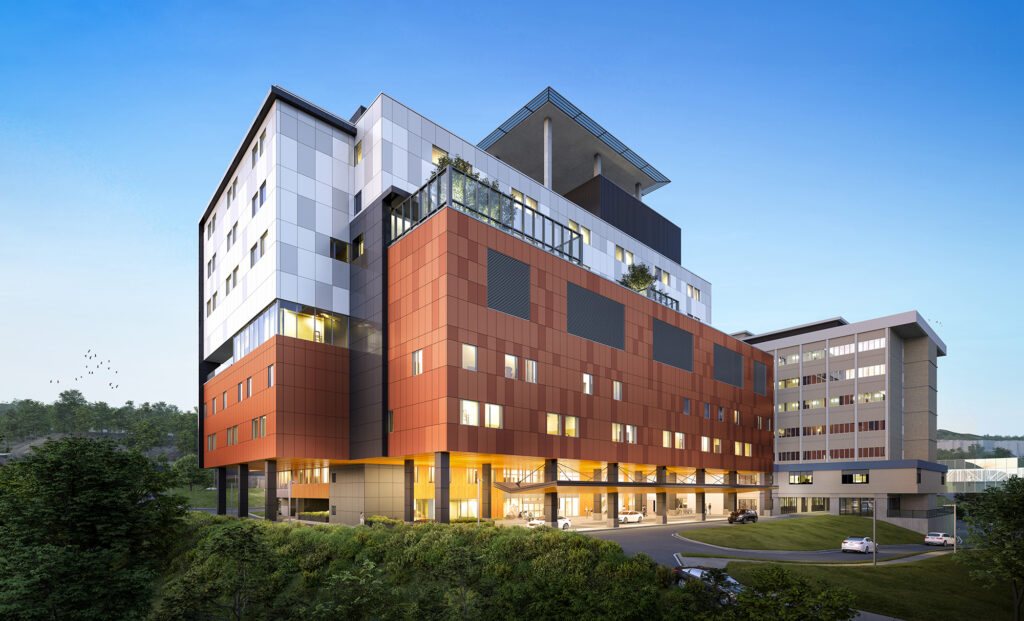 Since construction began in 2019, the communities of Kamloops and the surrounding area have watched the new 9-storey Patient Care Tower project at Royal Inland Hospital (RIH) with interest and anticipation. There has also been much speculation as to what the new tower will look like, and how it will impact future patient care. On Wednesday, April 21, 2021, many questions were answered when the Together We Rise (TWR) Campaign was officially launched.
The virtual event included a presentation by Dr. Todd Ring, Chief of Staff at RIH, which gave invitees a glimpse of the beautiful interior of the tower, which includes 100+ private patient rooms, along with other highlights such as the helicopter landing pad on the roof, spacious main entrance and inviting atrium. The building will also include youth and adult mental health units, a new surgical floor with 13 operating theatres, maternal and child health services, a rehabilitation unit, and trauma, stroke & neurosciences units.
TWR is the largest fundraising campaign in the history of RIH Foundation, with a goal of raising $35 million by 2023. Funds raised will go toward medical equipment and patient comfort items in both the new Tower and areas of the existing hospital which will undergo major renovations starting in 2022 (pediatrics unit, emergency department, and post-anesthetic recovery). The campaign also continues to support priority equipment needs throughout the hospital. To date, fundraising has been done by a committee of volunteers, chaired by Jim Reynolds. Their efforts have been rewarded with over $15 million raised so far.
With the official launch, the fundraising efforts move to full-on, with emphasis on the entire community. According to Jim Reynolds, "Our healthcare region is vast, with RIH at the centre of a large geographical region that includes over 225,000 citizens. At some in point in time, it's likely that everyone will require healthcare services, either within their communities, or at RIH. We want to ensure that the care received is the best it can be for all patients. The "Together We Rise" campaign is truly exciting, and we look forward to enthusiastic community support for a project that will transform our medical care for many years to come."
Tracey Rannie, Executive Director, Clinical Operations – RIH, commented, "The new tower will not only have a significant impact for the people we serve, but for the entire healthcare team. The private rooms provide lots of natural light and a quiet space for patients and families as they move through their healthcare journey. The whole healthcare team will benefit from the new, larger spaces with the required equipment so they can continue to provide excellent quality care. This is an exciting time for RIH."
The environment is also being taken into consideration. EllisDon, the project partner responsible for design and build, is constructing with environmental sustainability in mind; the tower will be a LEED (Leadership in Energy & Environmental Design) Gold Certified Building.
With a total project cost of $417 million, the provincial government is contributing $202 million, Interior Health $23 million, while the Thompson Regional Hospital District is adding $172 million. RIH Foundation committed to raise $20 million for the tower and will also raise an additional $15 million to meet continual demand for state-of-the-art equipment and special projects. Heidi Coleman, RIH Foundation CEO, is confident that the $35 million can and will be raised. "We are off to a great start thanks to the incredible efforts of the community and business leaders on our campaign committee. The amount raised so far, which has just been in the soft launch stage, is very encouraging. We have seen how generous Kamloops and the surrounding communities are when it comes to supporting RIH, and I am positive that individual citizens, community groups and local businesses will continue to give in support of this amazing project, which will benefit the entire region for decades to come." The new patient care tower is scheduled to open in the summer of 2022, with renovations to the existing hospital to begin once the tower is open.
---
Published: April 21, 2021