PRI Joins Forces with Unifor and Domtar to Support RIH Foundation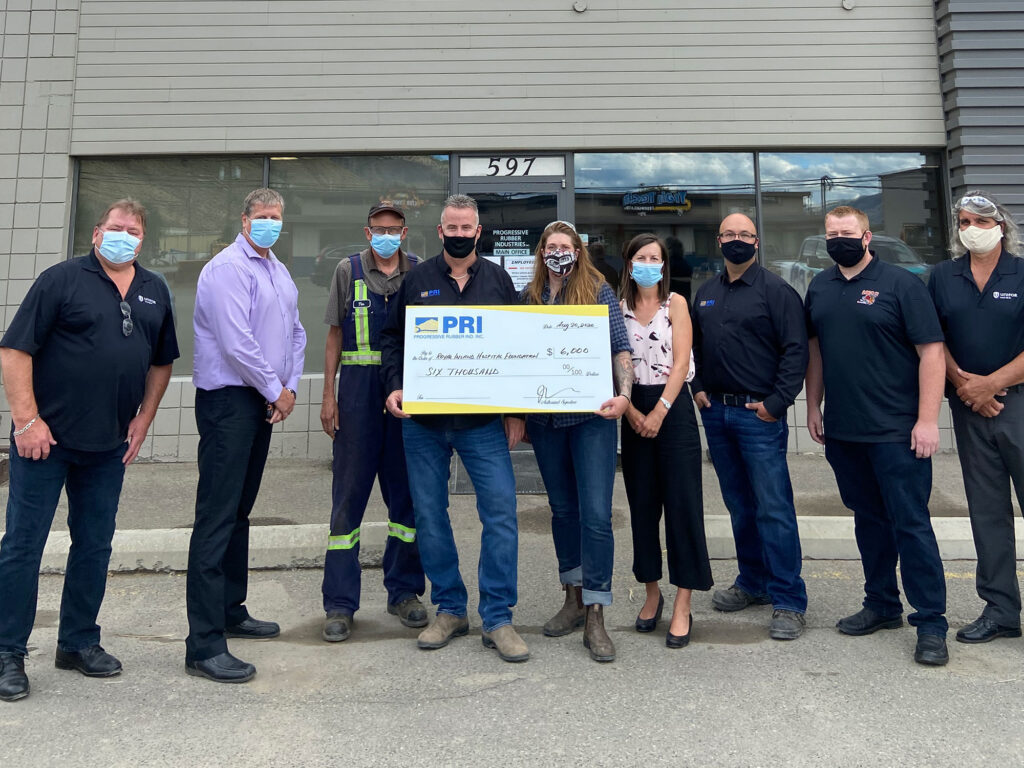 Photo (from left to right): Rene Pellerin, Unifor 10-b President (Domtar); Jean Claude Allaire, Mill Manager, Domtar; Ted Enns, Steel Fabricator, PRI; Jeff Winger, VP of Manufacturing, PRI; Katherine Phillips, Unit Chair for Unifor Local 10-b (PRI); Alisa Coquet, Campaign Director, RIH Foundation; Mike Ribic, Operations Manager, PRI; Cameron McElroy, Unifor 10-b 3rd Vice President (Domtar); Bob Stephens, Unifor 10-b 1st Vice President (Domtar).
Last November, Unifor Local 10-b, Unifor National and Domtar announced their intention to jointly commit $1 million over the next five years to Royal Inland Hospital's Patient Care Tower Project. As a follow-up, Unifor members who work at Progressive Rubber Industries Inc. (PRI) and PRI itself are contributing to this $1 million commitment. To date, Unifor (PRI) members have donated $3,000 and PRI has matched this donation for a current total of $6,000.
According to Rene Pellerin, Unifor 10-b President (Domtar), "Our members at Domtar were very keen to participate in this incredible donation to RIH Foundation, and now we are expanding to include an additional donation from Unifor members at PRI. It is a great example of the union coming together in solidarity with the employers for a common cause. We all appreciate the local community and are pleased to be able to give back through our combined support of the local hospital."
"This initiative is a really heart-warming example of how different businesses and organization, which might not normally partner with one another, can work together for a common cause. We are proud to be a part of this great fundraising effort that benefits not only the individual employees, but the entire community, and hope that this will be an example for other local businesses," said Jeff Winger, VP of Manufacturing (PRI).
Jean Claude Allaire, Mill Manager at Domtar, who was part of the initial announcement, commented, "It is great for us to be able to work collaboratively, not only with Unifor but now with PRI, to support the construction of the much-needed new tower at RIH. Kamloops is a great community that really comes together, particularly in times of need."
The current donation will be used to purchase health care equipment in the new tower, scheduled for completion in 2022.
---
About Unifor
Unifor is Canada's largest union in the private sector, representing 350,000 workers in every major area of the economy. The union advocates for all working people and their rights, fights for equality and social justice in Canada and abroad, and strives to create progressive change for a better future.
---
About PRI
In 1997, Progressive Rubber Industries Inc. (PRI) established itself in Kamloops creating abrasion and corrosion resistance components for the mining industry as well as original equipment manufacturers (OEM).

Since its inception, PRI has been committed to strengthening the local economy. They have increased their diverse work force tenfold and will continue to grow in pace with demand from the mining, aggregate, pulp & paper, oil & gas and municipal industries.
‍
By working with Thompson River University and in house training programs, they have developed and retained some of the most experienced personnel in the industry.​ With their combined expertise in steel fabrication, rubber lining, rubber molding, ceramic lining, on-site lining, on-site measurements, wear dynamics analysis, application analysis, and design services; PRI is the solution for any job – from small and simple to large and complex.​

PRI has the manufacturing capability to expedite and deliver emergency orders and has the ability to provide on-site consignment stocking of critical custom fares.
---
About Domtar
Domtar is a leading provider of a wide variety of fiber-based products including communication, specialty and packaging papers, market pulp and absorbent hygiene products. With approximately 10,000 employees serving more than 50 countries around the world, Domtar is driven by a commitment to turn sustainable wood fiber into useful products that people rely on every day. Domtar's annual sales are approximately $5.5 billion, and its common stock is traded on the New York and Toronto Stock Exchanges. Domtar's principal executive office is in Fort Mill, South Carolina. To learn more, visit www.domtar.com.
---
Published: August 27, 2020