Kamloops Hyundai donates $50,000 to RIH Foundation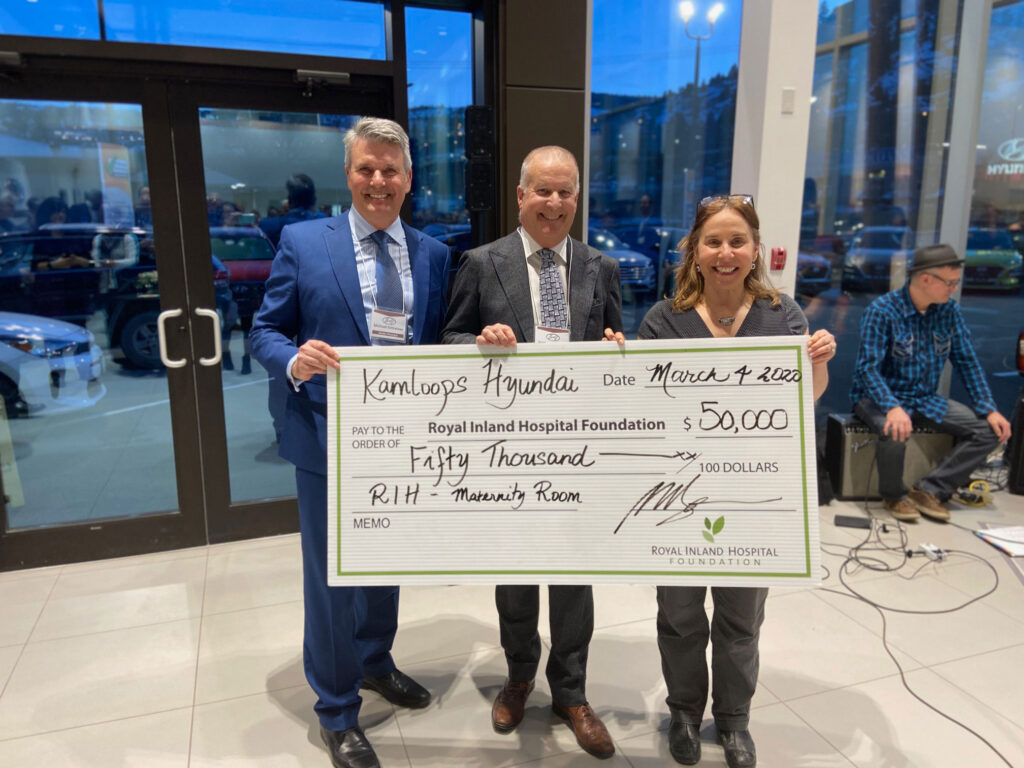 At the grand re-opening of the Kamloops Hyundai dealership, Michael Schreiner and Anthony Muzzillo, co-owners, announced that the dealership will be donating $50,000 to the new patient care tower at Royal Inland Hospital. Designated for the Maternity Department, the funds will be used to purchase state-of-the-art equipment.
"Over the past 13 years Kamloops Hyundai has contributed to many local charities, sports organizations and the performing arts. Today, we are especially proud to make this gift to the RIH Foundation for the new patient care tower to build a stronger Kamloops community. We know our staff and their families, along with our valued customers will use the enhanced services and care at the hospital when it is completed, and it feels really good to be an early contributor to the Foundation's goals," Schreiner elaborated.
Heidi Coleman, CEO of RIH Foundation, was at the event and expressed her thanks, "A major gift such as this one allows us to furnish the Maternity Department, in the new patient care tower which will open in 2022, with the best in equipment and furnishings. This gift is a perfect example of how important the community in Kamloops and the surrounding area is to the continued improvements to RIH. We are very thankful to Kamloops Hyundai for this generous gift."
---
About Kamloops Hyundai
Kamloops Hyundai was built in its present location on Notre Dame Drive in 2009. Now, as part of the Hyundai Global Image Program, Kamloops Hyundai completed a full building renovation in December 2019. This included the addition of a new drive through lane to service our growing customer base. Kamloops Hyundai is very proud to share that all of the construction partners, in the renovation, were Kamloops firms employing local trades people. We strongly believe in supporting the Kamloops community that supports our dealership!
Kamloops Hyundai is proud to serve our great customers in Kamloops and throughout the Thompson Nicola Region and by donating to many local charities, sports organizations and to the arts community.
---
Published: March 4, 2020